what to do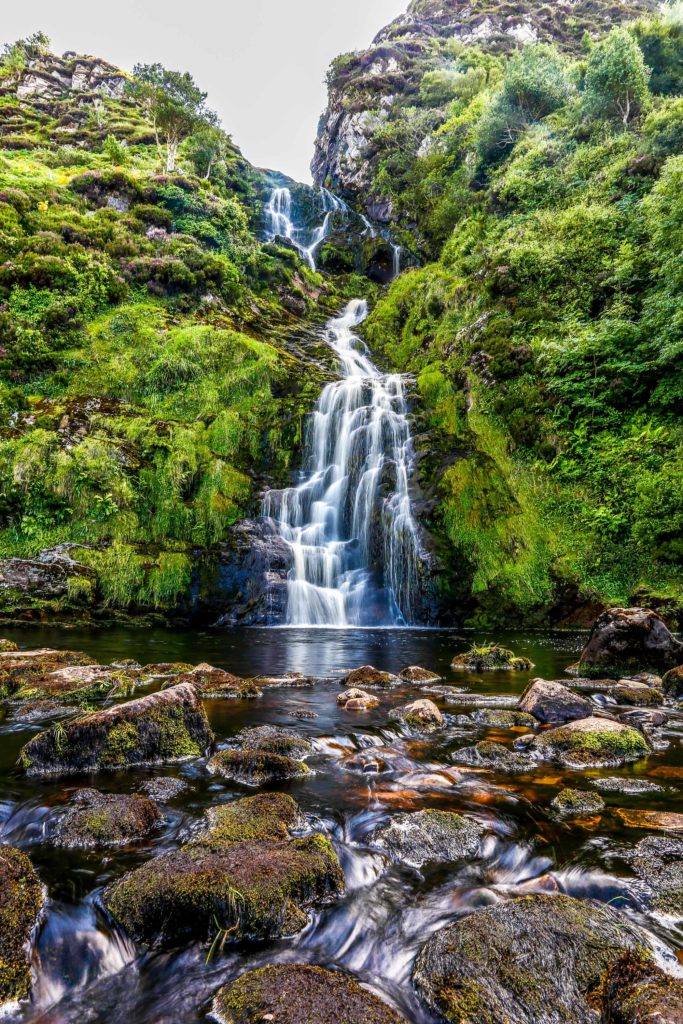 Glencolmkille is situated on the Slieve League Peninsula at the south-west point of Donegal. The area is bounded on the south by the mountains of Slieve League and Leahan and on the north by Slieve Tooey … while to the west is the restless Atlantic Ocean. It is a place of tremendous natural beauty and changing colours … mountains, lakes, sea cliffs, beaches. It is a place of quite roads, stone walls and fuchsia bordered lanes. It is an ancient corner of Ireland witnessed by the sites of dwellings and the tombs of the Megalithic period and by the cross-inscribed stones of early Christianity. Glencolmkille is a haven of peace and relaxation for those desiring a holiday in an unspoilt environment. We welcome you and hope you enjoy yourselves here and that you will come back again … and again.
Diving
Malinbeg is renowned among the diving community for it's crystal clear and pollution free waters, making it an ideal location for basing your diving trip. Many diving clubs set up base in Malinbeg, utilising it's small harbour and that of Teelin's several miles down the coast. All around the coast at Malinbeg and at the near-by Raithlin O Birne island are many documented diving sites and points of interest.
Hang Gliding
If you are a hang gliding enthusiast in Donegal, your lot is a happy one. Because with mountains that are caressed with smooth flowing winds from the sea and central plains, and hills that are almost completely free of trees, power lines, and other obstacles, it is ideal. The only thing you could be possibly missing, is a soft landing, right? Wrong, fortunately with the majority of our hills covered in peat we are blessed on this score too. Ireland presently boasts of more hang gliding sites than pilots.
Sea Angling
Sea Angling and Sightseeing trips on Donegal Bay aboard the "Assaroe Star". A fully licensed and insured fast angling boat. Deep Sea Angling, Full day, half day and evening charters.
Based in Teelin, Co. Donegal in North West Ireland. Surrounded by some of the most spectacular scenery in Europe. Come with us on the trip of a lifetime, if your interests is in angling, seabirds, whales, dolphins or just the majestic scenery we will do our best to make your trip a memorable one. Drop off and pick up service at Malinbeg for hill walkers crossing Sliabh Liag.
"Away To Me" Sheep Dog Trials
We offer authentic sheepdog demonstrations with our very friendly clan of border collies. Enjoy unique insight into the history and heritage of the area, in the easy company of these hilltop heroes. Visit www.awaytome.ie
Cliff
Regarded as being the highest sea cliffs in Europe (756ft), one can access the sea cliffs via the small villages of Carrick and Teelin. The cliff face, extending for about 3km has been carved by the Atlantic to give a variety of shapes and colours. Bunglas is a spectacular place to view the sea cliffs and experienced walkers can spend a day walking from Bunglas, through the somewhat spine-chilling One Man's Path, to Malinbeg near Glencolumbkille. This is for experienced climbers only but if you're not fit for that challenge, there are terrific views from the track.
Gaelic
Every year since its founding in 1984, OIDEAS GAEL has attracted hundreds of participants to take part in its highly acclaimed language courses and cultural programmes. Irish people, drawn from all backgrounds, constitute up to half of those attending, while the remainder travel from many other parts of the world especially to attend. The unique blend of our expertly prepared language courses and an attractive mix of cultural sessions enables learners to improve their fluency in Irish, while at the same time enjoying the living culture of our Gaeltacht community.As an alternative to the graded language courses, a broad range of cultural activity programmes is offered to participants interested in experiencing a unique style of learning activity holiday.
Castle
Built by the O Donell chieftains in the 15th century on the river Eske at the centre of Donegal Town. Rebuilt in Jacobean style in 16th century by Sir Basil Brooke after Hugh O Donell burnt it to the ground rather than let the castle fall to enemy hands. The castle is furnished throughout, and includes Persian rugs and French tapestries. Information panels chronicle the history of the castle and guided tours are available. The castle opens each season from mid March to the end of October.
Museum
The Folk Village Museum offers an excellent Guided Tour for the visitor. In the tour you will get the chance to experience life as it was in the 1700's, 1800's and 1900's. Our thatched cottage are exact replicas of those belonging to that era and are furnished accordingly. Take a look at how our ancestors lived, cooked, the beds the lay on, the tools they used, their means of lighting and heat etc. For those of you who can trace your ancestors to Ireland, this is an ideal opportunity to see their way of life first hand. To the rear of the folk village, along the hillside you will find a small nature walk. As you begin the walk you will notice various replicas of items from local history including—a Round Tower, Limekiln, Hedge School, Standing Stones and Mass Rock.
Fishing
Fishing with a pole, reel rod or a hand line is available free all year round along the entire coast.
Common fish are mackerel, pollack and whiting. Your chances of catching mackerel are greatest during the summer.
E-mail: info@malinbeghostel.com
Mob: 087 946 4313
Telephone: +353 (0)74 9730006